Special Offer! Free Gifts!
Buyers and sellers! Buy your dream home with Stanley as your buyer's agent or sign a listing agreement to sell your home with Stanley Lo as your listing agent and receiving the following free special gifts AFTER CLOSE OF ESCROW! Limited time offer! See details below.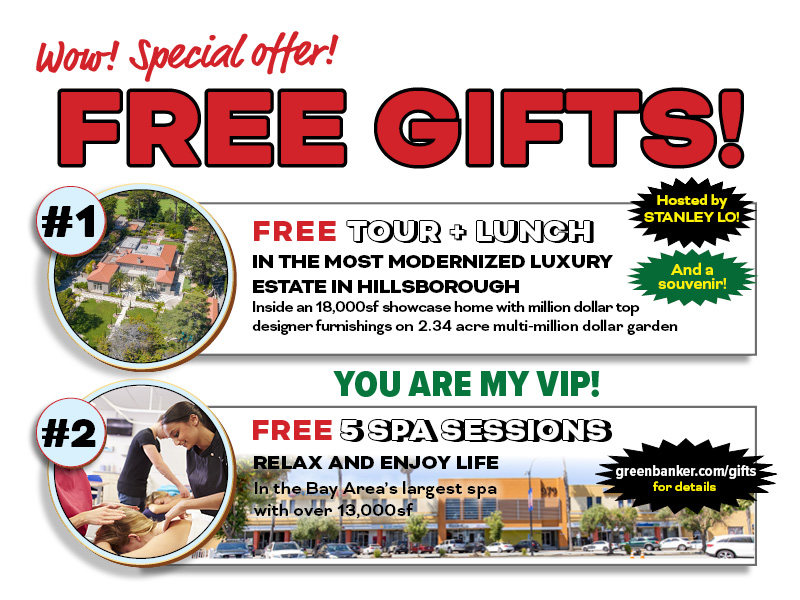 Restrictions apply. Offer good from October 15, 2019 to January 31, 2020. Home sellers must sign a listing agreement with Stanley Lo or home buyers must be represented by Stanley Lo. Buyers and Sellers must close escrow to qualify. Offer effective from October 15, 2019 to January 31, 2020 to qualify for all FREE offers. Sellers and buyers to receive the free offer after the close of escrow, regardless of sale date.
Tour and lunch is an adult function only and is limited to home sellers or buyers only (2 people max). Date and location of Hillsborough estate tour with lunch to be determined and disclosed to seller at a later time. Tour location as well as lunch location maybe subject to change for any reason. Tours and lunch availability varies. Client must check online for schedule when booking tour and lunch. A link to book tour and lunch will be provided to the sellers or buyers via e-mail after close of escrow. Souvenir to be presented after lunch.
Free spa sessions include 6 SWEDISH massages or 5 EUROPEAN facial treatments or a combination of both (not to exceed $300 in services) at the Water Lounge Spa - Millbrae branch ONLY. Partners, family and friends are welcome to join you in your spa sessions. If another party or other parties join in your session(s), the sessions count for the number of individuals using the number of massages and facials gifted.  Tips and gratuity not included but are welcome and appreciated the establishment.
Offers and gifts have no or zero (0) cash value. Offer is not applicable to current or signed listings. Listing must be signed from October 15 to January 31, 2020. Seller to receive free gifts only after close of escrow of the property for sale. If you have any questions, please call our office at 650-373-0007 or e-mail us at [email protected]
Sellers will receive an e-mail with link to claim gifts after close of escrow. List your home now!
What's my home worth?